Madonie Park
Tourist routes in the Park Madonie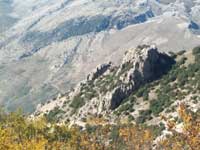 To ride through forests and trails do not need a particular skill, along the paths of transhumance routes planned ... are divided into:
Classic, to be covered entirely on horseback in about eight hours, starting from the slopes of the district Ferla just minutes from Cefalu, leads through ancient olive groves, vineyards and ash from manna, then climbing up to Castelbuono, at the foot of the fortress of the Castle of Ventimiglia . The same duration or average is the hike, starting from the beach tower basin, at Pollina, leading up to the great oaks of the forest Gibilmanna through the town of Saint Ambrose (village of Cefalu) and skirting the forest in the district Guarneri, A protection zone of the park. Following the old mule trails until you are under the fortress San Nicola, at the foot of lace Sant'Angelo.
Also at the ancient paths, a traverse longer and demanding, it is advisable to take two days, is that the district wells (150 m asl) in the municipality of Collesano and a few kilometers from the sea port in Piano Battaglia (1600 meters above sea level) through areas of great value architectural, landscape and botanical. In fact, after a short stretch of the Mediterranean scrub and olive trees, we entered a thick forest of oak and cork oak being sealed by a wide patch of heather, from the beautiful white flowers.

Walking along a paved path and steps so you can reach the medieval Abbey of St. George in the territory of Gratteri, which remains intact, the magnificent portal Chiaramonte. From here, along the slopes of Pizzo Dipilo, past the locks put by Shepherd, downhill side of Isnello-Collesano Munciarrati reach the junction marked by the presence of the large house of the Prince of Baucina Licata, formerly home to the Counts of Isnello. Then you continue for Piano Zucchi Volpignano by moving from the district where possible, after passing through a shady grove of oaks.

In the early afternoon departure for Piano battle through the reserve of forest and lake Contrada Herd Count, for a limitless in small forest of beech trees. In the evening, arriving in Piano Battaglia, you can stay overnight and start the next day.
The content of the page is automatically translated.
Rate: 1.0 | Comments (0) | Write Comment