Cyclops Islands
The Marine Protected Area "Cyclops Island" in the territory of Acicastello, dominated by the majestic Etna, the highest active volcano in Europe, was established in 1989 and named after a small archipelago consisting of the islands Lachea , Faraglione big Faraglione small and four other large rocks willing to bow before the country of Acitrezza.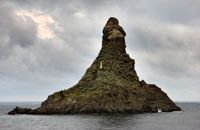 The management of reserves is entrusted to the consortium "Islands of the Cyclops" formed by Cutgana (University Center for the protection and management of natural environments and agroecosystems) of the University of Catania and the City of Acicastello. The Riviera of the Cyclops, which is set the Cyclops Islands Marine Protected Area, is famous In fact, for legend has it that the three stacks are the rock thrown by Polyphemus against Ulysses' ship flying away.
In the sea of the Cyclops and its grounds is the place lava rock and shelter much of the fish fauna of the Mediterranean, colorful sponges and large red stars, sea pike, bream, grouper.
E 'possible to discover the colorful colonies Astroides calycularis, the arborescent Eunicella cavolinii or clash with the silver samples Seriola dumerili. But it is quite possible close encounters with seahorses and torpedoes. The sandy bottom is the kingdom of fishes 'comb': be careful not to scare them!
In depth is easy to admire the beautiful fans of paramuricee, red arborescent colonies that exceed the meter and lobsters with the long antennae protruding from the burrow in which they find refuge.
With darkness the sea bed is populated by creatures mysterious but of rare beauty: it is the largest of the Mediterranean sea anemone, the Alicia mirabilis.
For lovers of diving, the Cyclops Islands Marine Protected Area has produced nine itinerarei officers. At the center of the marina stands the imposing Lachea Island, an islet of only seventy hectares which, thanks to its small lizards with red spot on his neck, the endemic Podarcis sicula mammoth, became a nature reserve in the far 1998.
On the Island Lachea run by Cutgana, inter-University Center, you can climb to the summit and also by Hermit Caves, home to his little spider is endemic, the "Zelotes messinai, or Monaco.Sull 'island then possible to explore the small museum of nature, rich of antiquities and the local fish fauna, and the Laboratory of Marine Biology.
The content of the page is automatically translated.
Rate: 4.0 | Comments (0) | Write Comment