Last News
Advertising
The Carnival of Sciacca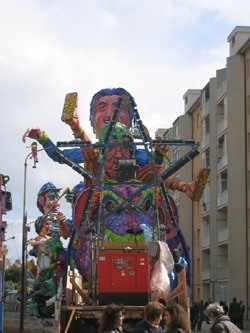 Back in May, the 110th edition of Carnival of Sciacca! The historic parade of floats and masked groups on 14 lots, 15 and 16 May!
E 'planned involve a total of eight tanks and the chariot de Peppe Nappa that opens and closes the parade. The organization of the carnival is curated by the city of Sciacca with the sponsorship of regional tourism and the regional Province of Agrigento.
The date of the event was moved following the landslide of 17 December 2009 that struck the Freedom square, near the festival circuit.
Throughout the middle of February there will still be moments of entertainment and other activities related to the tradition of the Carnival of Sciacca.
The content of the page is automatically translated.
Rate: 0.0 | Comments (0) | Write Comment